Our Pet Sitter Angels
Holly
Holly is a lifelong animal lover with a significant background in animal care, husbandry, and science. Currently a master's student at NCSU, Holly has a BS in Zoology as well as an education in Veterinary Medical Technology. She has worked at zoos, museums, research labs, veterinary clinics, and shelters with animals of all kinds. She is a registered lab animal technician and has a number of animal children, including a small flock of parrots and 3 wonderful cats. She is available for visits in South Raleigh and Garner.
---
Christie
Christie has been working with Ark Angels Pet Care since 2012. She grew up on a farm and has always had at least one four legged best friend. She considers it a privilege to care for your beloved pets and treats them with tender, loving care. Her hobbies are gardening, reading, and caring for your pets. She has a BS degree from Appalachian State University. Christie serves the North West Raleigh area and has earned the trust and respect of her clients very quickly!
---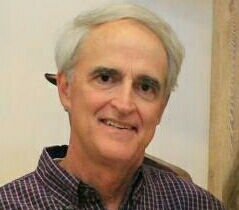 Howard
Howard is a life long resident of Raleigh and retired in 2012. He has always loved animals and has had the honor of sharing a special bond with a few of his own including horses. Howard has a special fondness for dogs and really enjoys walking them and caring for them. Howard is also a fitness nut and loves biking and exercising with the animals. Howard serves the North Raleigh area.
---
 Ann
Ann has been working part time with Ark Angels Pet Care since May of 2010.
She grew up with dogs but since college has rescued several cats and has
adopted a few. She loves working with both dogs and cats equally. Ann
currently serves the 5 points, Downtown Raleigh and North Hills areas.
---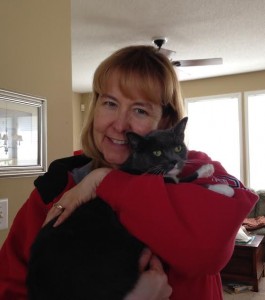 Rhonda
Rhonda has always loved animals. Her family always had pets when she was growing up including fish, frogs, mice, hamsters, birds, dogs, cats, and guinea pigs. Rhonda's current family includes her husband Kevin (also a pet sitter), 2 home schooled teenage boys, Mia (a pug puppy), Pepper (a border collie mix), Diego (a maine coon cat), Bizzy (a tuxedo cat), Molly (a cockatiel), and Daisy & Peach (2 guinea pigs).
She loves walking, playing, and snuggling with dogs and cats. Rhonda is a former preschool teacher with a degree in math education from James Madison University in Virginia. She treasures the time that she gets to spend with her pet sitting families in the Apex and Cary area.
---
 Jennifer
I'm Jennifer and this is my Gracie. I've been working with AAPC for 7 years. I love taking care of your babies as if they were my own! This job allows me to enjoy pets as if they were mine BUT give them back to you when you return home. I provide pet care in the North east Raleigh area.
---
 Caroline
Hi my name is Caroline and I started working for Ark Angels in December. I really enjoy caring and getting to know your pets and providing special attention to them while you are away. I am very appreciative of the chance to work at Ark Angels and for the trust and relationships formed with both pets and their owners.
I enjoy running, yoga, checking out flea markets and spending lots of family time with my awesome husband, children and pets. We have two dogs, Lightning and McQueen, and two parakeets Doc and Mater. I cover the West Raleigh area and can't wait to meet and care for your pets!
---
Chris
Chris has just joined Ark Angels Pet Care after thirty years as a commercial landscape contractor.
He's an admitted dog fanatic and has had at least one four legged friend he was four years old. A few of his beloved dogs have been mixed breeds, three awesome Golden Retrievers and a Corgi with a giant sense of humor!
Chris has completed a pet first aid course with Pet Tech and is thrilled to begin his "retirement" career with Ark Angels Pet Care.
He can't think of anything more rewarding!!!
---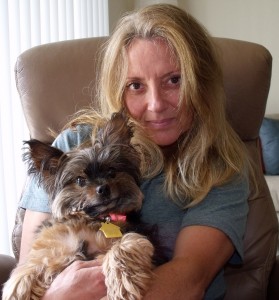 Michelle M.
Hi. My name is Michele and this is my little buddy Rowdy. I started at Ark Angels in March of 2016. What a great team to work for and to know that I'm working with people who love animals as much as I do.  We all know how important it is to find someone who's trustworthy and will love your pets as if they were our own while you're away.
I have been enjoying the love from my pets and loving them since I was 5 yrs old or what I can remember. It all started with guppies in my mother's tupperware bowls. Then the fish tanks were getting bigger and bigger. I used to buy the sick fish from the pet store and take them home and medicate them back to health. Then came the parakeet, the finches and a cockatiel.  We also had many cats, two ferrets, a rabbit, and lots of pups that lived on my Aunt's farm.
I am looking forward to helping our clients who need Angels to watch over their beloved pets!
Michelle serves the Brier Creek and Northwest Raleigh area.
---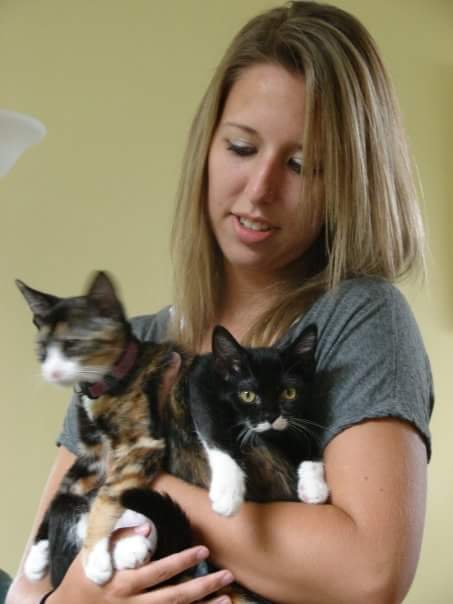 Melanie
My name is Melanie, and I'm very excited to be working with Ark Angels Pet Care! Animals are my life and my passion… I've been volunteering with various rescue organizations since I was 7 years old, and I've worked with almost any animal you can think of! I graduated from NC State in 2012 with degrees in Zoology and Psychology so that I could persue a career with animals. I've worked with domestic pets including dogs, cats, rabbits, birds and more to more exotic tigers, elephants and lemurs, in everything from rescues, rehabilitation centers, sanctuaries and zoos. I currently have 3 cats of my own: Lilly, Swashbuckler, and Naboo. I look forward to meeting you and your furry, feathered and scaly family members! I'll be providing care to our clients in West Raleigh and Cary.
---
George
Hi! My name is George and I joined the team with Ark Angels Pet Care this year. I'm originally from Pennsylvania and returned to Raleigh, NC a couple of years ago to be close to my family and intend to stay in this lovely state. I have degrees in Psychology and worked in a few different fields most recently for a hospital system in Pennsylvania. I have done volunteer work for two local hospitals here as well.
I have had dogs of varying sizes in my life and with me now is Annabelle an 8 year old 8 pound Chihuahua who is my sidekick. I care about the welfare of all animals and get much satisfaction and enjoyment caring for clients' pets as I would care for my own. In April 2017 I completed a Professional Pet Care Provider First Aid and CPR Workshop which provided very useful information.
I'm semi-retired and working for Ark Angels Pet Care has been rewarding. I look forward to being your pet sitter.
---
Hannah
Hi, I'm Hannah. I moved from the UK over 7 years ago and my pet family started to grow from there. We have 3 dogs and 2 cats (who think they're dogs) and I adore them! I love taking care of other people's cats and dogs and treat them as my own so I look forward to meeting your fur family. 
---
Amanda
Amanda was born and raised in Raleigh and now lives in the Garner area with two boys. She is a social worker with adult guardianship and has had pets since she was a young child. She currently has a dog that she and her boys rescued 9 years ago, Heidi. She is also an avid tennis player and fan. Amanda is available for pet sitting in the Garner area. 
---
Brittany
I am so excited to be working with Ark Angels and taking care of your sweet pets. I have been working with animals all of my life. I started working with domestic animals doing various pet sitting jobs in high school and continued through college. In college, I also started volunteering with exotic animals and doing several internships where I worked with large and small carnivores, bears, monkeys, macaws, lemurs and a variety of hoof stock. I currently work full time at the Duke Lemur Center taking care of the lemurs there! As far as my own animals go, I have owned a variety of pets from dogs, cats, guinea pigs, a hedgehog, a rabbit, a snake, fish and frogs. Currently, my husband and I have a one year old Anatolian Sheppard/Poodle/Heeler mix. I very much look forward to meeting you and your most cherished pets. Brittany will be serving the Brier Creek and North Raleigh area.
---
Lynn
Ever since I was a little girl, I have had a love and appreciation for our furry counterparts. I always have pets as part of my family, whether as an older rescue or getting as kittens or puppies. I presently have two fun loving companions. Roxie, Miniature Pinscher mix, age 6 and Count Dinker Von Hoffman, Dachshund, age 9 (Even though he knows he is royalty, we call him Dinker for short).
I am experienced and Comfortable with All Breeds, Ages, and Sizes of dogs and appreciate the unique Personalities of each dog and cat. I worked as a Dog Trainer for Pet Smart for five years and volunteer for SPCA of Wake County. I have always been in a service type career, so I understand the importance of meeting the needs of others whether 2 or 4 legged. Our pets are a treasure and I will care for your family pet with the same compassion, dependability, and commitment as I would my own. Lynn serves the North west Raleigh area.
---
Sue
I am a retired social worker, who has had various animals all of my life. I moved here from Florida to be closer to my children and grandchildren. At present, I have a wonderful 10 yr old lab, and have adopted an abandoned black cat. I have always loved and respected all living creatures, and consider it a privilege to care for peoples' treasured pets. Sue is available for our clients in the Cary area.
---
Jen P.
Jen really enjoys working for Ark Angels and building relationships with
both pets and their owners.  She has always loved animals and has had dogs,
hamsters, and fish in her life since she was very young.  Currently her
family has a four year old treeing walker coonhound rescue named Ranger as
well as seven fish.  She lives with her husband and three children in
Raleigh, NC.  She enjoys spending quality time with family and friends,
playing basketball and tennis, hiking, and caring for your pets.  She feels
very thankful for the opportunity to care for your treasured pets when you
cannot be with them! Jen serves the North and West Raleigh area.
---
Todd
My name is Todd Teeter, and I am a recent addition to the wonderful AAPC team. I've had at least one dog in my home since the day I was born, as well as several cats along the way. I currently foster kittens and dogs with the Wake County Animal Center, and have been with this amazing shelter for almost 3 years.  My current permanent residents include Buddy and Macie our two dogs, and our kitty Deene, who was a "foster fail" from two summers ago. I just had to keep her after fostering. I am married and have two teenagers in the Leesville School system. We are active in baseball, basketball and softball.
I have worked in the service industry since I was 15 years old. I would welcome the opportunity to provide peace of mind while you are away from home.  Your beloved pets are always treated as my own.  I currently service the Northwest Raleigh area.
---
Kevin S.
Hi I'm Kevin S. I teach in the Wake County Public School System and am married to the love of my life. My wife and I live in Cary and have two beautiful children. I enjoy reading, biking, rock climbing and spending time with my family. We have had cats and dogs our whole lives and believe they are a very special part of our family. Caring for children and animals brings a joy to my life that is like no other. I look forward to every day that I get to do just that! Kevin services the Cary area.
---
Caitlin P.
I love all animals and aim to pursue my doctorate in veterinary medicine within the next 1-2 years. I just finished working in a veterinary hospital for the past 2 months in Sydney, Australia. In the past 10 years, I've owned lizards, hamsters, salt-water fish and I currently have a dog. I've watched dogs, cats, small mammals and reptiles and love them all the same. I look forward to meeting you and your beloved pet(s)! Caitlin serves the Briar Creek and Durham 27703 areas.
---
Nate
I'm Nate and I love dogs. I have 2 dogs of my own: one is a brown/black Snorkie and the other an all white Siberian husky. I'm a recent addition to the AAPC team, but I can't wait to start helping your pet families. Pet sitting and dog walking is something I've done since childhood and throughout college at ECU.I love taking care of your fur babies as if they were my own. Currently, I'm an Insurance Agent in the Raleigh area and I look forward to helping with your pet needs with Ark Angels Pet Care. This job gives me the opportunity to show love to and enjoy your pets just as you do! I'll be caring for your pets in the Raleigh/Cary area and I look forward assisting you soon!
---
Kelly
Hi, I'm Kelly. I am an elementary teacher with Chapel Hill-Carrboro City Schools. I grew up in Ohio where my love for animals began. I moved to North Carolina 12 years ago with my golden retriever at the time, Kane. I currently have two golden retrievers, Skarlet and Gray. I look forward to caring for your pets in the Cary area.
---
Evelyn
My name is Evelyn and I recently retired from 45 years in the medical field. I have grown up with animals and they are my passion. I have volunteered weekly at SPCA Wake County for many years as a Cat Butler. I am thrilled to be transitioning to home visits with Ark Angels Pet Care and I look forward to developing a deeper relationship with your angels. I promise to love and treat them as my own. My husband, Greg is also an animal lover. We have two rescued mini Aussies and three demanding felines .
---
Amber
My name is Amber and I'm a total animal lover. Since I was 6 years old, I knew I wanted two things in life: light up sneakers and a pet lion. While I saw the direct fulfillment of my first dream by my 7th birthday, the pet lion manifested into years of joyful pet-sitting jobs and cat ownership (who are their own sort of lions.) I am grateful to own two abundantly playful and snugly tabbies, Mr. Whisper and Pond.  Over the years, I've taken my love of animals, large and small, into my personal and work life. With my BS in Parks and Recreation Management, I've worked for public lands, mainly, at nature preserves. A lot of my efforts were directed toward monitoring, protecting and assisting our native wildlife. On the side, I continued to provide pet sitting and walking services.  I deeply care about the welfare of all animals and love the process of winning their trust and meeting their needs. I cover the Cary area and can't wait to meet and care for your pets!
---
Jennifer
I am a Registered Veterinary Technician currently working in the field of Animal Shelter Medicine. I have been working with animals since 2008 in many different capacities and became a Registered Vet Tech in 2017. I have experience working with animals within different life stages with a variety of medical, nutritional and/or behavioral needs.
I currently have two cats Keiko, a diluted Tobie and Gayle, a "regular" Torbie of my own. I occasionally foster dogs and cats that need some extra TLC before finding their forever families. I serve the North Raleigh area for Ark Angels Pet Care and I look forward to meeting and caring for your fur babies.