Cat Sitting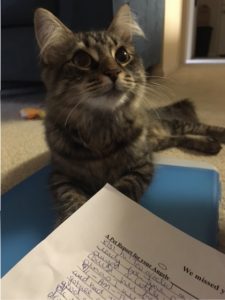 At Ark Angels Pet Care, we know your cats are cherished members of your family. Our professional, pet-loving caregivers will provide you with a variety of helpful services during each visit to your home—from scooping out the litter box and properly disposing of pet waste to feeding your cats, administering any necessary medications and giving your felines plenty of TLC.
Offering Loving, Professional Cat Sitting in the greater Raleigh area.
Do you have a cat that thrives on affection and requires extra attention while you are away? Our pet sitters will devote their time and energy to entertaining your frisky feline and encouraging him to engage in an assortment of playful activities that stimulate his senses. Is your cat timid and shy, or hesitant to interact with people he doesn't know very well? Our caregivers will keep a watchful eye on your cat's behavior in order to gauge how much interaction he is comfortable with during our visits. Once they've determined how much—or how little—interaction is appropriate, our caregivers will either coax your cat to come out and play or simply let him stay hidden in a spot where he feels comfortable and safe.
In addition to scooping pet waste and/or completely changing out your cat's litter box at each visit, our caregivers will bag and deposit any elimination in an outside trash receptacle so you can come home to a fresh and clean house. Food and water bowls will be washed and refilled upon each visit, and each room of the home your pets have access to will be thoroughly checked for any signs your cat is experiencing sickness or distress. If you're searching for someone you can trust to take the best possible care of your cat—whether you're simply logging long hours at the office or embarking on a cross-country road trip for a family vacation—look no further than Ark Angels Pet Care. Call us today to schedule an in-home consultation with one of our dedicated and professional pet sitters whose main mission is providing top-notch care to your beloved pet.