We take pride in offering superior customer service for our pet sitting customers. If you would like to share your experience, fill out this form.
Here are what some people have to say.
Grateful! ★★★★★
Nancy, I just want you to know how grateful we are to be a client of yours.
Your sitters are so responsible and kind to our kitties. I know that you
are there backing them up. And I am totally impressed with the way you
managed to take care of Christie's clients while she was sick and be sure
she could return to them as she gets better.
Thank you!
– Chris F
I highly recommend them! ★★★★★
The team at Ark Angels has always been attentive, loving, and compassionate toward my dogs. I have used their pet sitting services for over 4 years. They have always been communicative with detailed updates, which I love when I am traveling! I highly recommend them to anyone!
– Jennifer H
Thorn did an OUTSTANDING job! ★★★★★
Thorn did an OUTSTANDING job with Jack & Joon!!! Taking the hoods off of the litter boxes was BRILLIANT, and still seems to be working (just a few little "bits & pieces" outside of the boxes in the past two days, but nothing to bat an eyelash at)!!! 🙂 I feel like I've been a terrible mother not having figured this out myself!!! 🙁 When we got home on Friday night, the house was spotless, there were no accidents after Thorn's last afternoon visit! I am blown away by how happy she made my cats (it is not an easy feat)!! I can't think of anything that Thorn could improve on or tweak. She went above and beyond the call of duty with Jack & Joon!! She even spot shampooed the upstairs Oriental rug where they had an accident. She even took the cat beds home and washed them!! I cannot thank her enough — there are no words for how grateful I am (and my husband, and Jack & Joon too)!
– Jack and Joon's Mom
I Could Not Be Happier! ★★★★★
Nancy, Christie, and the Team have been caring for my fur babies for a few years now, and I could not be happier! It is so good knowing when you go away and have to leave your pups that they are being well cared for and loved. Christie has always gone the extra mile, too – she always sends updates (and usually with pics – how she gets them to stay still long enough and both look at the camera, I will never know). Both of my dogs were having some weird health issues that each required different meds, care, etc., and she was able to tend to them like a true pro. Another example is – I had a broken ankle and she would come walk my dogs, she would get my mail for me. She even has texted me to ensure I made it home ok, just in case I was delayed with travel and she needed to go let the dogs out again.
She is one of those special people you meet in life, and I cannot say enough good things in this short review, or provide enough examples for all she has done for the pups and me (and my peace of mind!). And Nancy, the owner, is very kind, professional, and willing to work with you on scheduling, etc. I am sure that is why she has such a good team – it takes a good person to find and keep a good team. You can tell that the care of your pet(s) is the #1 priority to them. It has typically been a challenge for me to leave my pups when I go away – I've always been worried and stressed…but knowing that Ark Angels is there to care for my fur babies eases my mind, and gives me a sense of peace so I can relax and enjoy my travels. Thank you guys!!!
– Jen C.
Highly Recommended! ★★★★★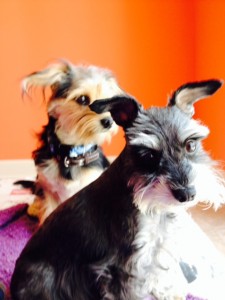 "I cannot sing the praises of Nancy and her associates enough. I have been a client of the service for many years and I have never been disappointed. In the beginning, Nancy was the primary caregiver, but since she has grown she has needed to assign others. They have been reliable and nothing but caring for my 2 cats. This service far exceeded my expectations. I will not go to any other service because I know that my cats are well cared for, and in some cases, given more attention than I can often give. I highly recommend Ark Angels. You will not be disappointed."
– H M
Always Positive! ★★★★★
"Nancy Stevens operates one of the most professional pet sitting businesses in our area. She is responsive to customer needs and makes adjustments as needed to care for the animals. She is always positive and understanding of client needs. Her agile thinking allows for creative solutions to problems. I would recommend Nancy as a business person and an animal advocate. "
– Melanie M.
Love the Extra Care ★★★★★
"I have used Ark Angels Pet care for about five years. The attention they have given my pets especially one old dog with lots of problems has been outstanding. My dog loves to hear that her walker is coming. I highly recommend this pet sitting service."
– Lynne P.
They Really Are Angels 
★★★★★
"We have been Ark Angels customers for over 4 years. Until 2 months ago we were owned by 3 cats, the oldest was 19.Nancy Stevens and her wonderful helper, Lisa have cared for, and loved our "babies" like they were family. When our oldest cat died, Ark Angels babied us too! We have recommended Ark Angels to several friends, and will continue to do so.When you can't be home to love and care for the four legged family members, we would trust no one else."
– Penne S
Care Giving with Heart! ★★★★★
"Nancy and crew have been taking care of my cat(s) for more than 5 years. When I am away from home, I know my four-legged friend is getting the best of care.rnArk Angels Pet Care knows how to take care of everyday needs as well as any crisis. Several years ago, when my 22 year old cat was sick, Nancy??s loving support was invaluable. I knew I could talk with her about treatment options and make the best decisions for PeeWee. When my brother suddenly past away this year, I knew Nancy was a phone call away. I was able to leave the state and know Kaz was getting the personal time and attention she deserves. Ark Angels has always delivered the best in customer service and can be counted on to meet my needs and yours. I can't put into words what kindness Nancy has provided to my best friends."
– Kat S
Pet Sitter For Pet Lovers ★★★★★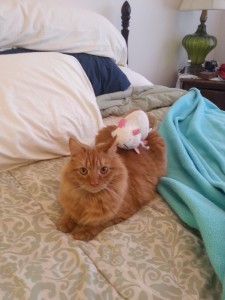 "Ark Angels Pet Care is owned and operated by animal lover Nancy Stevens. She offers mid-day, early morning, late afternoon, evening and overnight visits for your furry friends. In addition to pet sitting, Nancy also offers reiki, administration of medicine, a pet taxi service, walks in the park for your pooch and so much more. If you love your pet, let Nancy take care of him when you can't!"
– Melissa L
True Angels Pet Care ★★★★★
"I was in the hospital for a couple weeks this past summer, Nancy and Marissa took care of my 2 Siamese boys. This was the first time I used her service and it will NOT be the last. One of my "boys" was in the later stages of CRF, needing not just meds but fluids injected under the skin. Marissa was wonderful with them. She brushed & played with them, kept the litter boxes up, brought in the mail, took out the trash and really looked after things. Since I found Ark Angels I will never use another service. I don't stress when I'm away, knowing my purrsons are in the best of care. The service is very reliable and just a phone call away. I fully recommend this service!!!"
– Kate
Wonderful! ★★★★★
"I'm a long time customer of Ark Angels. When I ended up in the ER this past fall, knowing that they were looking after my cats it really provided peace of mind. And this was with very short notice. They're also wonderful with regular cat care and being kind to the humans that belong to the cats."
– Elizabeth W.
BEST Pet Sitter in Raleigh ★★★★★
"I have been extremely happy with Ark Angels. I have a consistent sitter who my dachshund adores. Recently my husband and I were trapped on a runway for hours past when we were supposed to arrive home and our sitter Kristyn went to check on our dog to make sure she was okay when Kristyn couldn't reach us. I absolutely recommend them over boarding your dog anywhere, the level of attention and service for your pet is unbeatable!"
– Rebecca D.
Peace of Mind ★★★★★
"We were very pleased with the care of our furbaby Chip while away on our trip. It gave us great peace of mind to know he was being cared for by Lisa and we really appreciated the text updates. Thank you Ark Angels!"
– Leesa
Our first pet sitting experience ★★★★★
"We recently moved to the Raleigh area and Ark Angels came highly recommended to us. We had never used anyone other than family or friends to care for our 12 year old and 1 year old dogs. Nancy spent quality time on the phone, reviewing Ark Angels and putting my mind at ease. When our sitter came for our meet and greet, I knew my pets would be in good hands. While we were away, Holly sent pics and daily updates. She left a detailed account of each of her visits for when we returned. We are thrilled to have found Ark Angels and loving, reliable care for our pets when we are gone!"
– Laura E.
The Best ★★★★★
"I have been a client of Nancy's since she began Ark Angels. I will never go to anyone else. She loves my cats as if they were her own. I go on vacations and relax knowing she has chosen a sitter that she trusts. I have always been more than pleased."
– Helen McLeod
Deeply Connected to My Animals ★★★★★
"It is so wonderful to be able to leave Mocha, Snowflake, and Molly and not worry one little bit! Nancy and her staff go the extra mile to make sure they are all happy and well cared for in my absence. Nancy's professional attitude in addition to her deep connection to animals inspires my recommendation of Ark Angels Pet Care."
– Kathy A.
A Joy to Work With ★★★★★
"Ark Angels has cared for our two cats for the last few years when we go out of town. They have taken excellent care of them. We always come home to two happy cats who have been well look aftered. The sitter feeds them, plays with them and cleans their litter. She also has always been good about keeping us updated while we are out of town and leaving lengthy reports about how great our cats are, which we always love. They really have been a joy to work with"
– Sally
Extremely Happy! 
★★★★★
"I have been extremely happy with Ark Angels. I have a consistent sitter who my dachshund adores. Recently my husband and I were trapped on a runway for hours past when we were supposed to arrive home and our sitter Kristyn went to check on our dog to make sure she was okay when Kristyn couldn't reach us. I absolutely recommend them over boarding your dog anywhere, the level of attention and service for your pet is unbeatable!
– Rebecca D.