Your pet deserves trustworthy, dependable, loving care from Ark Angels Pet Care in Apex, North Carolina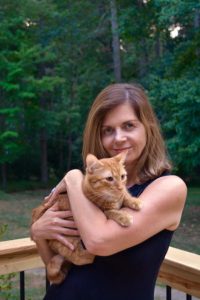 When it comes to your pets, you want nothing but the best. You look for the foods that will keep them healthy and happy, make time to walk with them, take them to the vet, and play with them as much as possible. This is not because you have to, but because your furry friend is an important part of your family!
Pet owners want to see that their pets are well-cared for whenever they travel. The Ark Angel Pet Care team knows just how important it is to have reliable, experienced pet sitters who will go above and beyond to ensure your pet stays happy and healthy while you are away. Each member of our Apex pet sitting team has met a strict list of requirements, so we can provide your pet with the care they deserve, and allow you the peace of mind that your beloved pet will be happy.
Apex: Where Convenience Meets Contemporary
Apex is a "hidden gem" in Wake County where you can indulge your passion for the arts, fine dining, and offers outdoor recreational areas perfect for people and pets!
Apex, NC is the place for indulging in all the best things in life. Be it looking for the perfect outfit at Beaver Creek Commons for a meal at Dohertys' Irish Pub, practicing your putt at Knight's Play Golf Center, or gearing up for the Apex Jazz Festival there is always something going on in this delightful city. With an abundance of parks to choose from, there is always somewhere you and your pet can stretch your legs and enjoy the fresh air.
Why You May Need a Pet Sitter in Apex, North Carolina
Our Pet Sitters are Insured
Our Ark Angel pet sitters are not just someone who asked for a job and said that they love animals. Our pet sitters are professional who are insured so that both you and the sitter are protected. We respect the needs of your pet(s) and go the extra mile to see that all parties involved are protected.
Our Apex Pet Sitting Service Provides Peace of Mind
When we agree to care for your pets, you can count on us to show up when we say we will. It is our goal to make things easy for you, so there is no concern as to "if" an Ark Angel pet sitter will show up. In fact, we will even take time to check in with you when you travel to ensure you will be home when expected. In the event that you are delayed, we will take good care of your pets so that you can rest assured. Also, if your pet needs medication, our pet sitters will see that they get it on time, so you don't need to stress about your pet's health.
Having a Consistent Pet Sitter Helps Your Pet
Just as people do not wish to see a different doctor every time we go to the same office, your pets need consistency in their pet sitter. This allows trust to develop and grow so that your pet is more at ease when you are away. With our pet sitting service, the same person will come to your home each time a visit is planned.
No Need to Kennel
When you have a pet sitter you can depend on, there is no reason to kennel your pets and expose them to germs, parasites, or illnesses such as kennel cough, nor will they be bothered by the behaviors of other animals. In addition, by staying in their own home, your pets will not have to change their routine or have the added trauma being transported and dropped off with someone they don't know. Better yet, by having a pet sitter come to their home they will have their favorite bed, toys, and food.
Relieves Pressure from Family or Friends
Many times, one thinks the solution to needing a pet sitter is to have family or neighbors take care of your pet while you are gone. However, this is disruptive to their schedule and many times the task is done out of an obligation to you rather than a love for your pet. Pet sitters, on the other hand, love animals and be it dog walking or changing the litter box, they do it because your pet's well-being is important to them. And, as a bonus, your pet sitter is typically happy to retrieve the mail and water your plants too, so you don't have to ask other people to come in and out your home while you are gone.
Working with Ark Angel Pet Care, Serving Apex, North Carolina
When you are going out of town, or perhaps just need an extra set of hands to help with caring for your pet, having an Apex, NC pet sitting service you can depend on is a must. You need to know that your pets will be loved and cared for the same as you would provide for them. When you work with Ark Angel, you can be sure that they aren't there to just feed and walk and your furry family members, but they will love them and play with them just as you do.
Our Ark Angel pet sitters are carefully vetted. They must meet our high standards of training and experience, have passed a background check and have to show that pet sitting is not just a profession, but a passion. Our team is available to work on weekends as well as holidays, so you have the flexibility you need to travel.
Contact Ark Angel Pet Sitters
Talk to the caring pet sitters at Ark Angel today and take peace of mind for your beloved pets with you on your next trip! Contact us online or give call us at (919) 782-5421 today.